Iriseoir Fise
It's a bit of biker heaven on that final journey. A Cork motorcycle enthusiast has built a trike hearse, the first of its kind in Ireland.
The unique vehicle was created by combining a 1996 Ford Scorpio hearse and an old 1988 Goldwing GL1500 motorcycle.
Pat Noonan has called his funeral service "Ride in Peace" and he hopes "to bring a touch of style to a poignant occasion".
Mr Noonan is a keen biker and has refurbished many old motorbikes in the past.
He spent hundreds of hours in his workshop designing and building the unusual hearse and describes it as a passion project.
"I bought the hearse up in Meath and I had to cut the front off it and I cut the back off the bike. We had to make a special chassis in order to bring the two together," he said.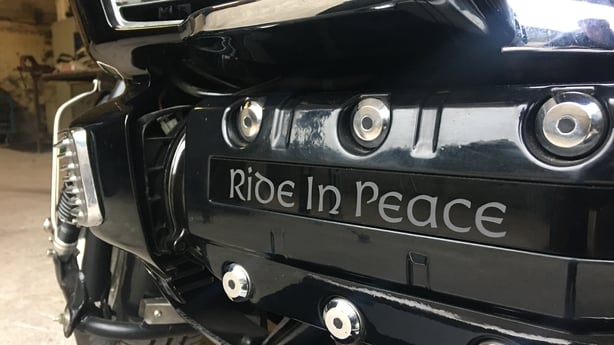 "A lot of thought went into that because the vehicle is over a tonne in weight. So it was essential that the design was robust and sturdy."
The idea for the trike hearse came to Pat while attending a friend's funeral a number of years ago.
"I always loved building unusual things as a child. I was designing and unusual bikes, cars and everything. But I was actually at a funeral of a biker friend of mine and there was a cavalcade of motorbikes behind an ordinary hearse.
Being out in the bike is a way of life, being out every day in all kinds of weather with the gear on. It's a kind of a therapy.
"My friend was a biker all his life – ate, slept and drank motorbikes. Everyone else there were on their bikes behind the hearse and I thought this wasn't a very fitting way to bring him to his final resting place," said Pat. 
Pat says he received a lot of help and support from the tight-knit biking community in Cork during the build.
"Being bikers, our lifestyle is all about bikes. There's a lovely community around it. The building of this was a great example of that. A lot of good friends had a hand in this, helping be me build it and offering advice. It's a real biking-community effort."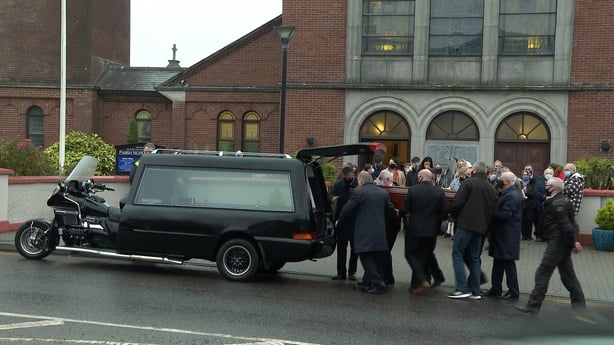 "Being out in the bike is a way of life, being out every day in all kinds of weather with the gear on. It's a kind of a therapy. It's a lovely lifestyle, if you are in to it. I hope this will kind of give them what they want on their final journey. It's not just for bikers, it's for anyone who wants to do something a little bit different to honour their loved one"
If someone wants to go out in style and leave a fitting memory for their loved ones, I think it's a lovely way to do it.
Last weekend the trike hearse received a special blessing from local biker chaplain, Maurice Lynch, and Pat undertook his very first funeral, carrying the remains of a family member, Michael Murphy, from Carrigaline church to the local graveyard.
"I was really honoured that I was asked to take Michael on his final journey. Back in the day Michael was a great biking man, loved his bikes and had a few nice machines. He's been very ill for two years. He would've really enjoyed this."
"If someone wants to go out in style and leave a fitting memory for their loved ones, I think it's a lovely way to do it. It's a celebration of life in death."