By Cameron Houston-theage.com
The owner of a wholesale liquor outlet has launched civil action against Victoria Police over allegations two boxes of Johnnie Walker Blue Scotch whisky, which one officer allegedly said would "go down well at the Christmas party", were stolen during raids on his Boronia business.
Michael Jones, who owns a string of brothels in Melbourne's eastern suburbs, alleges in court documents that police also took an expensive pen and $1600 cash during the 2018 raids, which were part of a money-laundering investigation against the Comanchero bikie gang.
Mr Jones was identified by the Echo taskforce at the time as a key figure in a syndicate that helped Comanchero president Mick Murray evade more than $10 million in taxes.
He was charged in March 2018 with two counts of recklessly dealing in the proceeds of crime, three counts of false accounting and four counts of possessing the proceeds of crime.
Police also seized more than $800,000 worth of alcohol on pallets from Mr Jones' warehouse in Boronia.
However, by March this year, police had dropped most of the charges against Mr Jones, while two remaining charges were withdrawn in September by the Office of Public Prosecutions.
Victoria Police was ordered to pay Mr Jones' legal costs of more than $100,000, while the seized alcohol was returned in April.
But Mr Jones' solicitor, Tony Danos, claimed several items were not returned and has accused police of not recording some items that were seized in 2018.
"Two dozen Johnnie Walker Blue not recorded by police and taken to police car and told 'It will go down well at the Christmas party,' " a statement by Mr Danos filed in the Melbourne Magistrates Court on November 26 says.
It is also alleged a pen was removed from Mr Jones' desk: "… expensive pen taken and not recorded by police".
Mr Danos claimed his client had been wronged by police.
"This is a matter of principle and my client expects [the items] to be returned. He feels slighted and wants the alcohol and other items back."
A sworn affidavit by Detective Senior Constable Fiona Castelow of the Echo taskforce said the whisky had been returned, the $1600 cash was retained as evidence for an upcoming trial of another alleged syndicate member and there was no record that a pen was seized.
Senior Constable Castelow conceded that all charges against Mr Jones had been withdrawn but said that the brief had been referred to the Commonwealth Director of Public Prosecutions for assessment.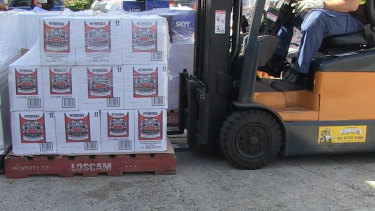 She maintained Mr Jones was involved, knowingly or otherwise, in money laundering on behalf of the Comanchero gang.
"The laundering scheme used other legitimate businesses knowingly involved or unknowingly involved to create multiple streams of money coming into Jones' multiple bank accounts in order to conceal illicit transactions orchestrated on behalf of [Mick] Murray," Senior Constable Castelow stated on October 20.
A hearing in the Melbourne Magistrates Court on December 1 was adjourned until April next year.